Stone Age Tools in 21st Century Labs
This paper asks and proposes answers to some basic questions about the topic of laboratory automation. It is prompted by reflecting on the deplorable state of information management in most 21st century labs, mired down in the use of stone age tools.
We encourage you to ask these questions and answer them for your laboratory.
What is the main product of your laboratory?
It's hard to come up with a more comprehensive answer than this: Information. In fact, all laboratories are highly information intensive from one end of the service chain to the other.
What value does that information have to your enterprise?
Here again we propose the obvious. The information product of a laboratory is critical to the enterprise success. I cannot recall a laboratory where this was not the case, no matter what function, no matter what industry.
What properties of the information impact its value to the enterprise?
The terms error rate, accuracy and precision seem obvious here, as well as a heavy weighting on turn-around from end to end in the service chain. Of course cost and personnel safety are also always important factors.
Information technology is the key enabler for delivering high value information in an information intensive environment. What is the current state of information technology in most labs?
The information technology used in most laboratories is in the stone age, essentially little improved over the 1990's. Spreadsheets, word processing, private computer or paper files, desk drawers, paper carriers, and multiple islands of desktop automation are the rule. These are inherently labor intensive, prone to errors, and subject to excessive turn-around, re-work, and high cost. In addition, much valuable information is inaccessible and underutilized. Examples of technology based automation are everywhere in our daily lives. But most laboratories are still using hand tools.
What is the industry standard automation tool for the modern laboratory and what difference can it make?
In a word, LIMS. A LIMS automates the production, use and distribution of information for the laboratory from beginning to end. Like all automation, it has a major impact on performance. There is no other comparatively priced investment in money and effort that will do more to improve the performance of a laboratory and its contribution to business success. Typical payoff is less than one year. Another analyzer won't do it; another lab technician won't do it; another automation point solution won't do it. Fine tuning your spreadsheets won't do it. BlazeLIMS will do it.

For example, here is a chart of labor cost allocations from a customer's pre-LIMS lab which is quite typical:Labor content was reduced 45% by BlazeLIMS automation, which eliminated most Data Entry and reduced Product Release and Equipment Management. In addition, turn around, error rates, and early detection of drift were significantly improved, with a dramatic reduction in paper records. Investment payoff period was 6 months.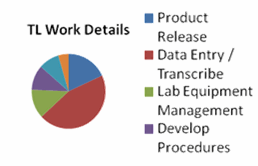 Labor content was reduced by 45% by BlazeLIMS automation, which eliminated most Data Entry and reduced Product Release and Equipment Management. In addition, turn around, error rates, and early detection of drift were significantly improved, with a dramatic reduction in paper records. Investment payoff period was 6 months.
This is a no-brainer for most labs. What are the barriers that are prolonging this situation?
Every organization has its own barriers but at the heart of many are presuppositions that ought to be questioned::
Presupposition: LIMS are only affordable for very large labs and very large companies.
Reality: BlazeLIMS complete with instrument interfacing and bar coding starts at 50K. For most labs the payoff is less than 6 months.
Presupposition: We can't afford the cost and effort of even finding the right LIMS.
Reality: It is true that one can spend a significant percentage of the price of a LIMS just acquiring it. Blaze Systems provides an alternative to the traditional costly and often ineffective "waterfall" acquisition process. Our Iterative Engagement Process is free and takes very little of your time. We even make house calls. It leads to a highly informed buy decision.
Presupposition: Deep down inside I do not believe we will benefit all that much from a LIMS.
Reality: Isn't that a little like saying you want to keep using a washboard for your clothes because you don't really believe a washing machine will make a difference? Blaze Systems will work with you to show you the benefits of automation and help quantify them. That is an easier process than you might think.
Presupposition: There is too much risk that the LIMS we buy will cost more than we expect and may fail to meet our objectives.
Reality: The Blaze Systems Iterative Engagement Process drives to a fully prototyped, fully explored, fully demonstrated system by a process of iterative refinement. The end result is a low risk decision with a credible pricing basis that holds up throughout the project.
Presupposition: We do not have the time to implement a LIMS. We are already running at 150%.
Reality: You don't have the time to not automate the tasks that are taking your time. In addition, the tools and training provided by Blaze Systems for initial configuration reduce substantially the effort and leverage off your current basic data very efficiently. Also, the initial configuration need not implement every desired feature. You can lay out a manageable path of continuous improvement with bite sized steps. Blaze Systems can supplement your resources for these tasks without jeopardizing a handsome payback.
Presupposition: Given what I am currently facing, now is not the time to consider something this big.
Reality: Will there ever be a better time to take the first step? Contact us and we can start a customer friendly process that will get you where you should be within the constraints of your situation.