Blaze Information Systems provides not only a comprehensive set of core LIMS features and functions, but also a rich set of extensions and integration with external systems capable of delivering on your solution suite needs. For the small enterprise that is unlikely to have multiple costly applications, BlazeLIMS provides credible extended functionality and associated benefits. For the larger enterprise, BlazeLIMS provides integration and interfacing with external systems. Many extended functions are included at no extra cost in BlazeLIMS. Others that are more comprehensive are provided as extra cost modules in attempts to arrive at the best balance for most laboratories.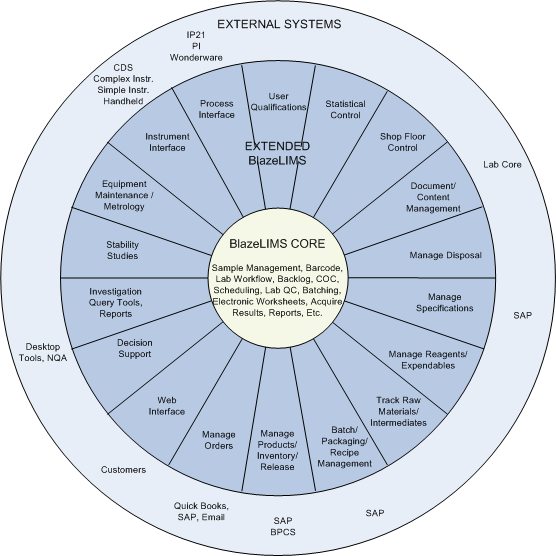 BlazeLIMS Extended Functions are provided by features included in the BlazeLIMS products or in add-on modules as indicated:
User Qualifications – Track, manage and enforce LIMS (and other) personnel training – included in BlazeLIMS.
Statistical Control – Automatically or manually run control chart algorithms (Shewart, Western Electric, Westgard, Cusum) on lab methods/instruments and/or product quality and notify when excursions are detected – provided by BlazeStatisticalControl Module.
Shop Floor Control – Design, plan, schedule, execute manufacturing functions while tracking SOP's, materials, equipment and personnel availability and usage – included in BlazeLIMS.
Document/Content Management – Capture, track and manage versioned documents through life cycle processes, including process SOP's, recipes, lab methods, maintenance SOP's, raw measurement data, published final reports, etc. – included in BlazeLIMS. Allow complex expression search of contents – provided by LabCore.
Manage Disposal – Monitor and enforce disposal of samples including special provisions for hazardous materials – included in BlazeLIMS' Inventory tracking capabilities.
Manage Specifications – Maintain, track, control and apply manufacturing, product, customer, or on-time specifications on quality results. – included in BlazeLIMS.
Manage Reagents/Expendables – Order, receive, inventory, test, release, use, track, expire, and dispose of materials critical to laboratory (or other) functions. Insure proper use and inventory, and provide complete traceability of use – Provided by BlazeInventory Module.
Track Raw Materials/Intermediates – Order, receive, inventory, test, release, use, track, expire, and dispose of raw materials and intermediates critical to manufacturing functions. Insure proper use and inventory, and provide complete traceability of use – provided by BlazeInventory Module.
Batch/Packaging/Recipe Management – Design, schedule, execute, track, and document manufacturing/formulation batches and other operations – included in BlazeLIMS.
Manage Products/Inventory/Release – Track, inventory, test, compare with specification, combine into lots, and release product or other materials, including skip lot and other manual and automated lot release mechanisms – included in BlazeLIMS.
Manage Orders – Take customer requests, provide quotes, take orders, execute associated function (testing, manufacture), pick, package, ship and invoice – included in BlazeLIMS.
Web Interface – Provide simplified customer interface to request product/testing and review status and results, organized and pre-configured according to customer (vs internal lab) view – provided by BlazeWebServer.
Decision Support – Provide decision support information via everything from routine structured reporting to ad-hoc query. Provide roll ups into data warehouse to allow review of distributed LIMS as a unified business – provided by BlazeDataWarehouse Module.
Investigation/Query Tools/Reports – Provide an open ended and highly configurable set of tools to allow comprehensive information delivery in many forms and via many mechanisms – included in BlazeLIMS.
Stability Studies – Design, specify, manage, execute and report on shelf life stability studies and their associated protocols – provided by BlazeStability Module.
Equipment Maintenance/Metrology – Track equipment usage, and monitor, track and enforce calibrations, pm's and validations. Basic calibration tracking included in BlazeLIMS. Full maintenance provided by BlazeMaintenance Module.
Instrument Interface – Automatically capture and store instrument result outputs to avoid costly and error prone transcriptions for simple devices (scales, moisture, etc.) and complex analyzers. Provide bi-directional interface where justified to pre-configure instruments for runs – provided by BlazeLink.
Process Interface – Collect data from and send data to process monitoring and process historian systems to provided seamless view of the data to operators – included in BlazeLIMS.