Regulations in the food and pharmaceutical industries have strict requirements for demonstrating the shelf life of products. To accomplish this, laboratories conduct studies that track the properties of production lots or development batches under various storage conditions and packaging, over time periods of months or even years. This requires a tedious data-intensive effort, and the penalty for inadvertent errors can jeopardize the validity of months of testing. BlazeStability organizes, executes, tracks and manages all aspects of shelf life studies so as to save labor and testing costs, reduce errors, and allow more comprehensive coverage of products and lots.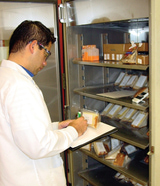 BlazeStability establishes, tracks and manages the following, organizing the information in consistent, clear and easy to configure structures:
Studies for each lot/batch being monitored
Protocols including variations on storage conditions, packaging, storage orientation
Storage location management and tracking
Draw and testing schedules
Results and statistical analysis
Features
Barcode labeling of storage containers, samples and storage locations for positive identification throughout
Sampling/Testing driven calculations of storage requirements with allowances for re-tests and retains
Draw schedules with rules and slack to avoid weekends, holidays, high workload times, etc.
Autologging of samples for testing draws
Notifications for approaching draws
Comprehensive reports of all aspects of the studies for fast review and results summary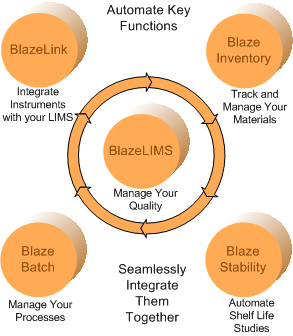 Highlights
Templates for ease of creation of new studies
Continuous calculations of current and required inventory provide labor savings and cost savings by reducing costly stored product to a minimum
Draw schedules with sparely populated testing to save unnecessary lab costs
Highly flexible containerization for various packaging and storage protocols
Early warning of off-track results to allow refinement and salvaging of studies , or abandonment before unproductive testing
Highly flexible on-the-fly modifications to existing protocols schedules with labor saving copy features
Superior integration with BlazeInventory, BlazeLIMS, BlazeStatistics, and BlazeLink, but also available as a stand-alone application.